News and Events
Congratulations Project Petals!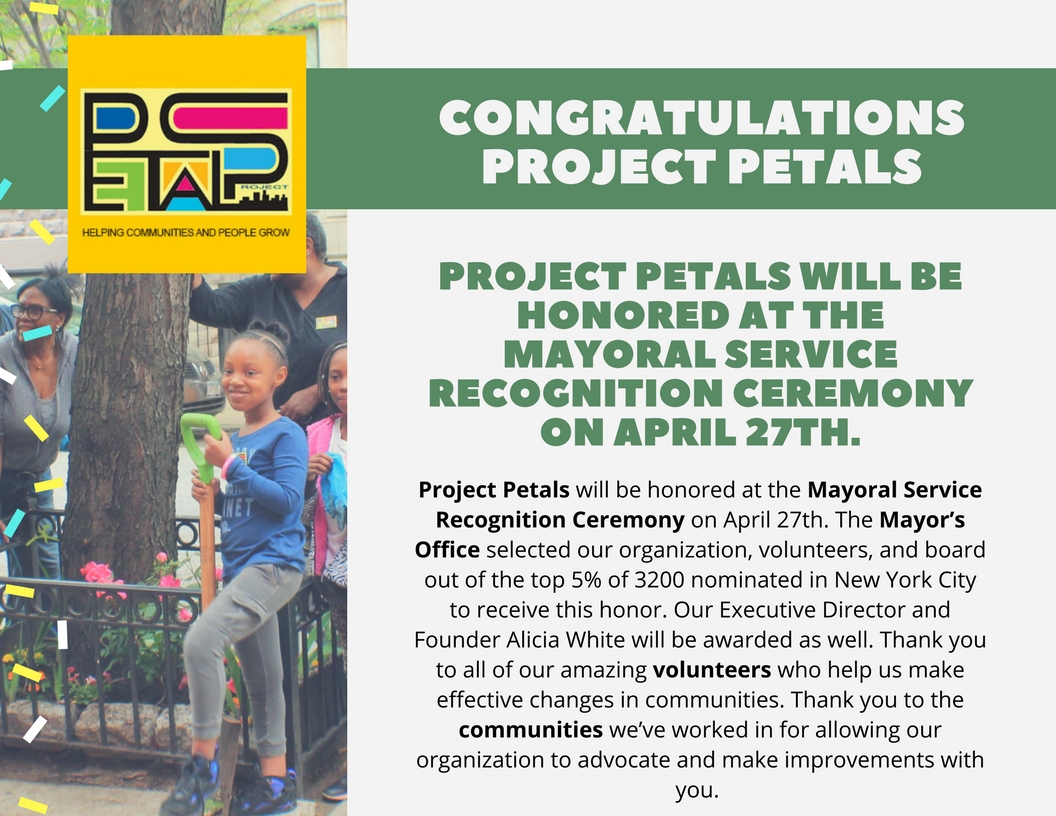 Project Petals will be honored at the NYC Service NYC Mayoral Service Recognition Ceremony on April 27th. The Mayor's Office selected our organization, volunteers, and board out of the top 5% of 3200 nominated in New York City to receive this honor. Our Executive director and Founder Alicia White will be awarded as well. Thank you to all our amazing volunteers who help us make effective changes in communities. Thank you to the communities we've worked in for allowing our organization to advocate and make improvements with you. #NYC #mayor #improvements #newyork #service #award #Ceremony #mayor #communities #Mayoral #projectpetals
We launched our Project Petals Youth Builders Program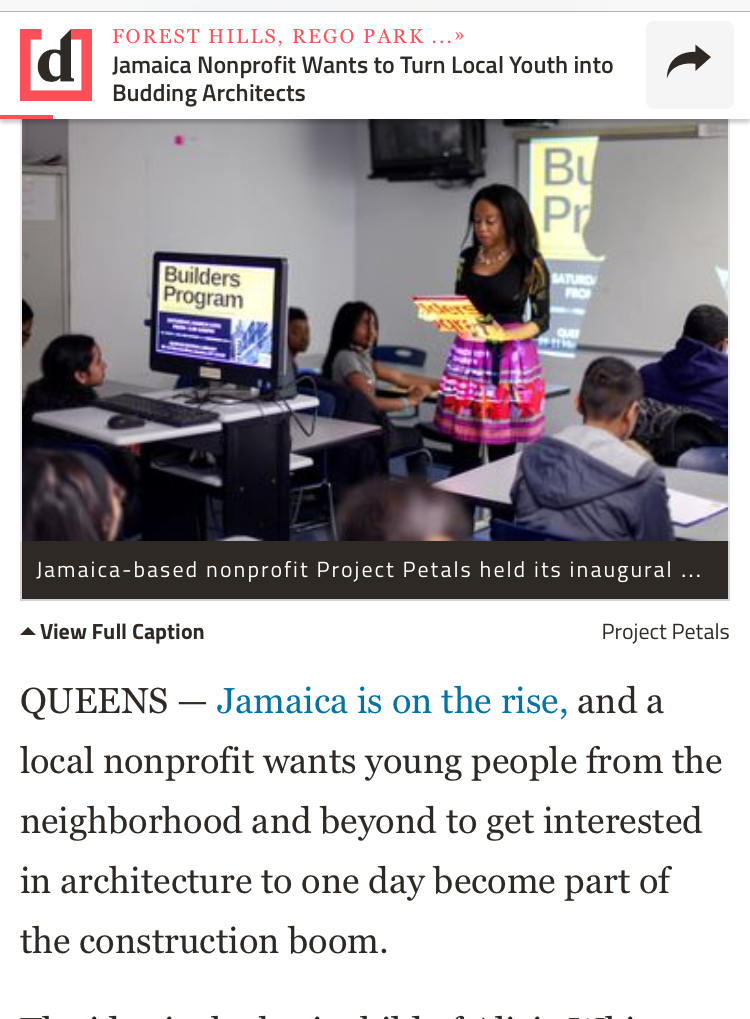 Our first
Project Petals
: Youth Builders Program took place Saturday, March 11th at
Queens Library
. Students from junior high schools and high schools in Queens attended. Students learned about architecture, engineering and leadership. Our workshop featured professionals in architecture, engineering and leadership fields, including
Turner Construction Company
Construction Company, Graf and Lewent Architects LLP, Terrence O'Neal Architect LLC and
Partnerships for Parks
or Parks. Many thanks to
Investigation Discovery
and
VMware
for funding our workshop, it was an insightful and fun learning experience!
https://www.dnainfo.com/new-york/20170317/jamaica/jamaica-nonprofit-architects-project-petals-youth-builders-program
Builders Program Speaker Abokor Gulaid

Our next speaker for our workshop Queens Library on Saturday, March 11th Abokor Gulaid Assoc. AIA, LEED AP BD+C is an architectural designer at Graf & Lewent Architects in Jamaica, NY. He was born and raised in Queens. He is a product of public education. He attended Brooklyn Technical High School and enrolled in the Architecture Major for his junior and senior years. After high school, he decided to stick with architecture and attended SUNY University at Buffalo in upstate New York, where he received a Bachelor of Science in Architecture. He is currently a LEED accredited professional and an associate member of the American Institute of Architects.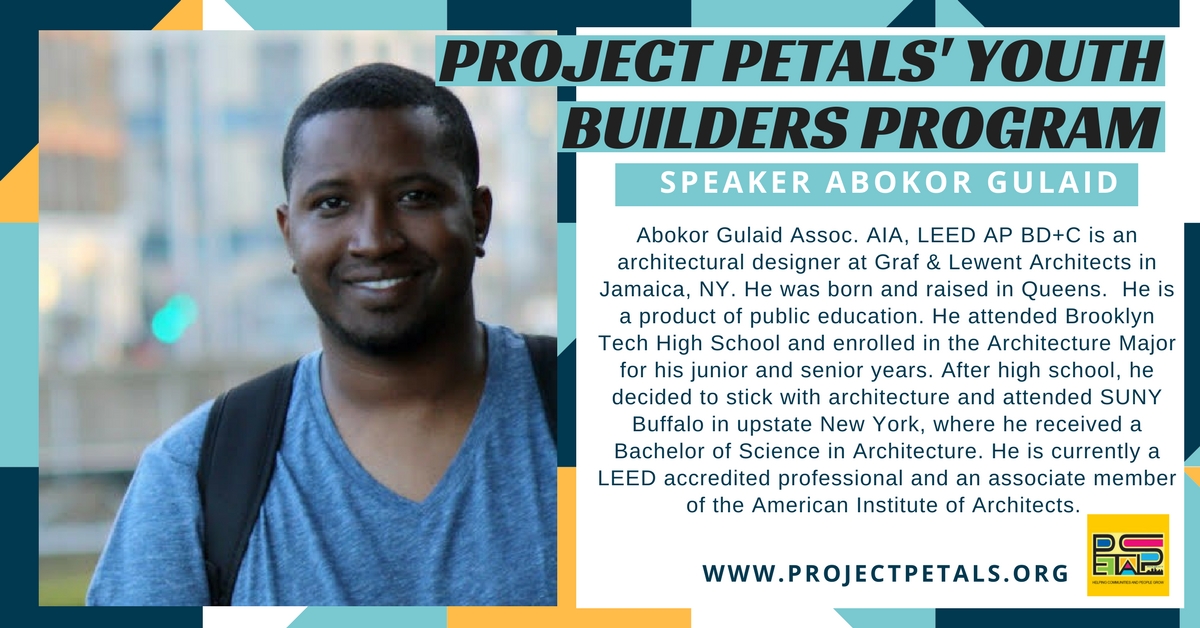 Builders Program Speaker Emmanuel Oni

We will be featuring speakers for our Youth Builders Program on Saturday, March 11th at Queens Library .Our first feature EMMANUEL ONI a 1st generation Nigerian-American has a Master of Architecture Parsons School of Design The New School of Constructed Environments. He is currently a junior architect at TONA Terrence O'Neal Architect LLC. He has been a Active Design Fellow, Hearst Design Fellow in Lagos-Nigeria, Petrie Fund Grantee in Hong Kong, Structures for Inclusion Fellow in Venice, Italy and was the recipient of the Parsons Dean's Merit Scholarship. Read more about Oni below and to register for our program on Saturday, March 11th https://www.eventbrite.com/e/project-petals-youth-builders-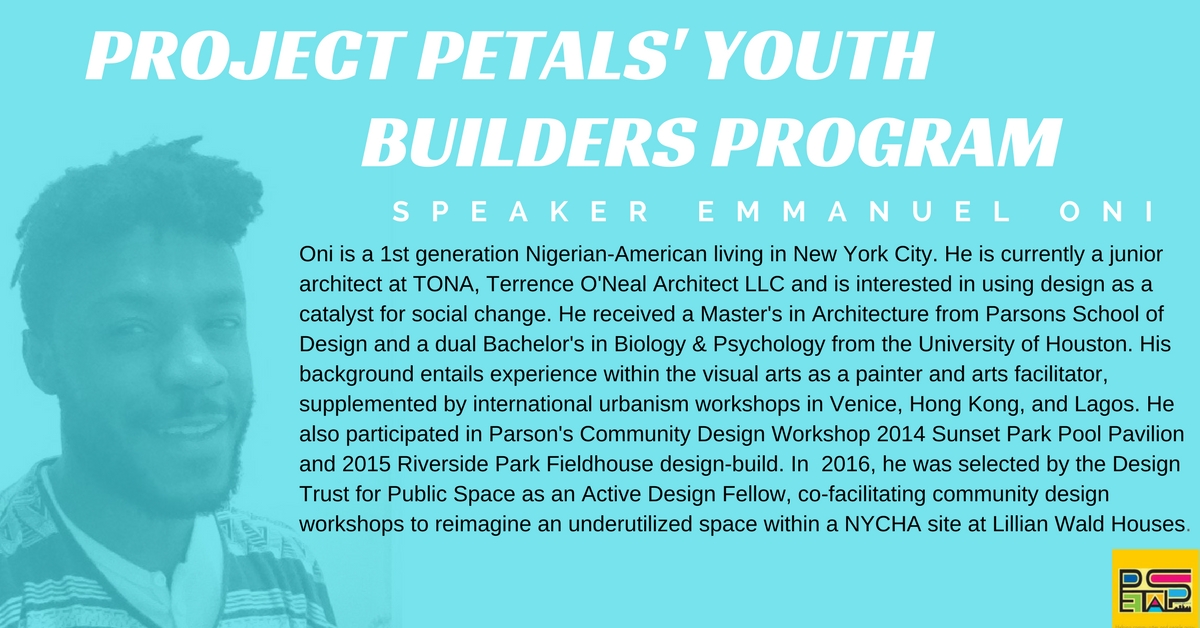 Builders Program Speaker Leah Worrell

Our next spotlight is Leah Worrell , the Technical Assistance and Leadership Manager for Leadership and Group Development at Partnerships for Parks. She studied English Literature and Psychology at Barnard College in Manhattan, and is a graduate student at Baruch College, working towards a Master's Degree in Public Administration. She is passionate about helping community groups who work with NYC parks and green spaces. She designs workshops and training's that help them improve their skills in fundraising, social media, working with elected officials, and increasing their membership. #projectpetals #youthbuilders #youthbuildersprogram #architecture #architect #engineer #engineering #nyc #youth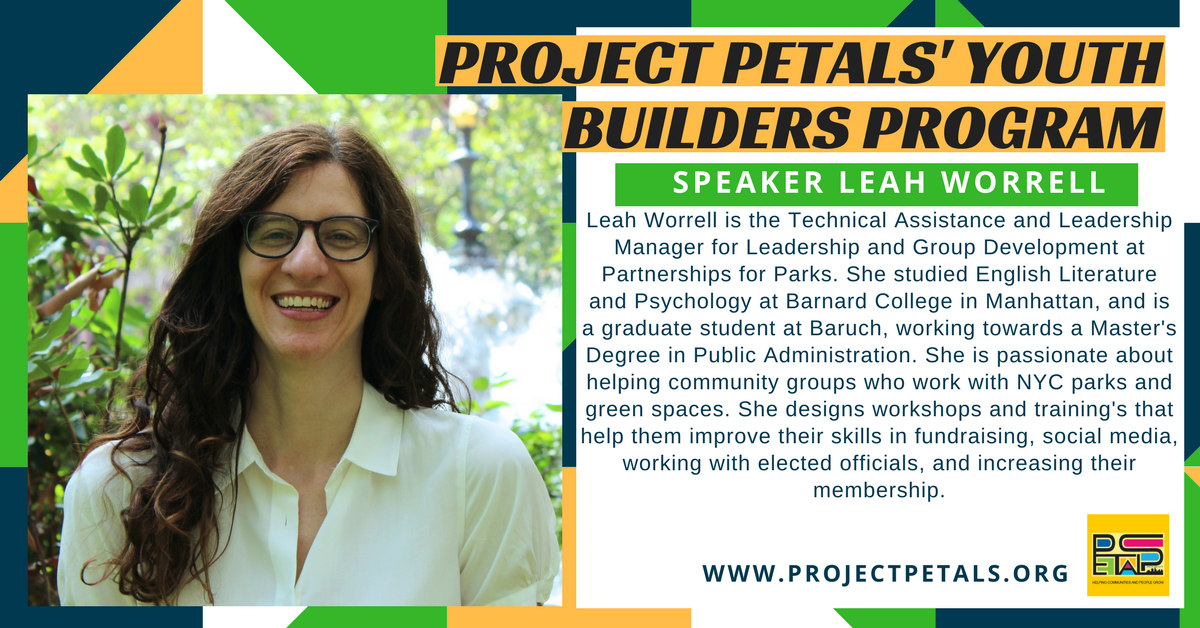 Are you making an effective change in your community, or have you volunteered with us and have news on your project? Tell us your story and be featured on our volunteer spotlight, for Project Petals News and Events!
Project Petals  Leadership Volunteer Spotlight
We had the pleasure of sitting down with Tiara Nicole-Faye who's not only a public relations and events specialist, but an avid Project Petals Volunteer.
Why do you like volunteering with project petals?
– Volunteering with Project Petals gives me the opportunity to physically help my community. It makes me proud that I can help make the community better for the youth of tomorrow.
What changes do you want to see in your community and environment?
– I want to see more parks, cleaner streets, safe and bright pathways. I want to see the community become even more beautiful. Give the people of the community a reason to go outside again! Thanks to Project Petals I'm becoming a leader to make this happen.
Also, what are your passions in life?
– My passion is dance, ballet to be exact. I feel ballet and nature go hand in hand with me. They are both so relaxing. Whether I am dancing or sitting outside or even dancing outside I am in my own little world. Relaxed. Happy. I wish that happiness for all people. It starts with making and keeping our communities beautiful!
Would you like to volunteer and become a Petals Pusher! Sign-up here https://www.projectpetals.org/get-involved/
Our garden project at Unity Court, in Harlem this spring was a great community project lead by our Leader Volunteer Spotlight's Yvonne Crute and the dedicated residents of Unity Court, in Harlem.
Crute along with her daughter live in Harlem. While Yvonne and her daughter enjoyed strolling the city blocks that had blooming flowers and plants, there was no funding for greenery in their own building due to budgetary measures at her building. Luckily, Ms. Crute heard about Project Petals and contacted us, we provided the funding, resources, plants and direction . With some help from #projectpetals, the result was beautiful  gardens in front of their building and Yvonne is already thinking ahead for new #petalprojects.
Yvonne throughout the process had expanded upon her capacity to be an effective leader within her community and we are excited to have her as not only a project leader, but a Petal Pusher.
This project will need up keep and planting this spring. If you have garden experience and would like to help with this project please sign-up here https://www.projectpetals.org/get-involved/, or to help fund this project please donate here https://www.projectpetals.org/donate/ .
Are you making an effective change in your community, or have you volunteered with us? Tell us your story and be featured in our volunteer spotlight
---
 Upcoming
Project Petals is creating inclusive projects for all people to change their environments and communities. Environmental justice and community inclusion is our number one priority.
Please let us know if you have any questions, on how you can make your community more inclusive. We'll find the answers to some of your questions on December 3rd at the UN.
December 3rd– International Day of Persons with Disabilities (IDPD)
"Since 1992, the United Nations International Day of Persons with Disabilities (IDPD) has been commemorated annually on 3 December around the world. The theme for this year's International Day is "Achieving 17 Goals for the Future We Want". This theme notes the recent adoption of the 17 Sustainable Development Goals (SDGs) by the UN General Assembly, and the role of these goals in building a more inclusive and equitable world for persons with disabilities."